Covid-19 Home Testing Information
Coronavirus remains a serious health risk. Anyone with COVID-19 symptoms or a positive test result should stay at home and self-isolate immediately. If you have symptoms of COVID-19, you should arrange to take a PCR test as soon as possible, even if you've had one or more doses of a COVID-19 vaccine.
The most important symptoms of COVID-19 are recent onset of any of the following:
a new continuous cough
a high temperature
a loss of, or change in, your normal sense of taste or smell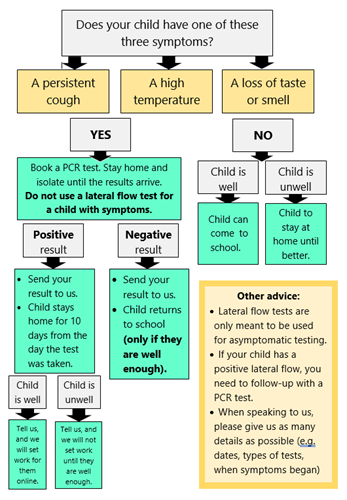 Take tests if you do not have symptoms to help manage your risk
Around 1 in 3 people with COVID-19 do not have any symptoms. This means they could be spreading the virus without knowing it. Testing regularly increases the chances of detecting COVID-19 when you are infectious but are not displaying symptoms, helping to make sure you do not spread COVID-19.
How to do a Covid-19 Self Test
Reporting the results 
After completing each home test, you must report the result to the NHS and Ercall Wood Academy. 
To inform the NHS you can telephone 119 or report online www.gov.uk/report-covid19-result, as stated in the step-by-step guide. 
To inform the academy please use the Microsoft Forms link below to complete the student's result.