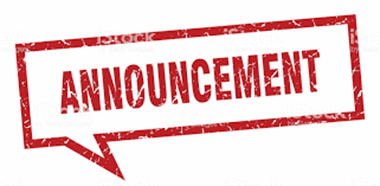 UPDATE 20.03.20
UPDATE 20.03.20
Dear Parents,
We have now received the next guidance from the Government which clarifies the situation for schools and parents. The key messages are: 
There is no requirement for parents and carers to send their children to school
If it is at all possible for children to be at home, then they should be.
If children can stay safely at home, they should, to limit the chance of the virus spreading.
Children with at least one parent or carer who are identified as critical workers by the government can send their children to school if required.
As advised by the Government, we will do all we can to stay open for the children of critical workers Link to maintaining provision. The list below is now the published list of those providing important services: -
Health and social care
Education and childcare
Key public services
Local and national government
Food and other necessary goods
Public safety and national security
Transport
Utilities, communication and financial services
In addition to this list, we have also been asked to develop a provision for the following groups:
Vulnerable children with an EHCP
Vulnerable children with an attached social worker
All other children will need to stay at home, and we ask that you do not send your child to school from Monday onwards.
We want to keep the number of children in school to an absolute minimum to reduce any risk of infection as much as we can. Wherever it is possible, the best option for families and our whole community is for your child to stay at home.
You must register your child today on the link below so that we can put a suitable provision in place for next week and during the period of school closures.
Please contact your child's school if you are eligible to be classed as a critical worker by 7pm using the link below:
For the students whose families do not meet the criteria, we will be continuing with the planned 'home learning' package that has been detailed in previous communications. We expect our children to be proactive in their engagement with the programme so that they maintain routines and continue to make academic progress.
Finally, if your child feels ill and you want to know what to do next, please use the NHS 111 online https://111.nhs.uk/covid-19
As a Trust and on behalf of our schools we will continue to work in the best interests of our families and community.
Yours sincerely,
Dr. Gill Eatough
CEO LCT
Date Published: 20 Mar 2020