EWA Recycling Project
These are the pictures of Year 11 Turquoise with Juicy- Lucy our giraffe. These students are helping with Ercall Wood's recycling project. They are: Conall Stafford, Ethan McCabe, Oliver Ruck, Emily Kirkham, Charlie Beech and James Salter.
Juicy-Lucy has come on holiday to our school from the British Ironworks in Oswestry for one month. During that time we are collecting bottle tops to fill her body. We are then entering a National Competition to create a design using them. The project is part of our new Ethics Course where we have been studying our role in the world, especially thinking about environmental issues such as plastics. This is a practical way in which we can demonstrate not only our concern, but also do something positive as well. Mrs Jennings has provided a bin for bottles and is taking a large bag full to the recycling centre every two days!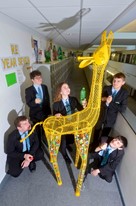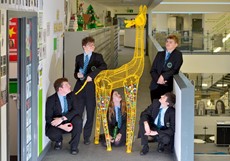 Date Published: 05 Nov 2019