Exam Results 2020
Centre Assessed Grades
Thursday 20th August 2020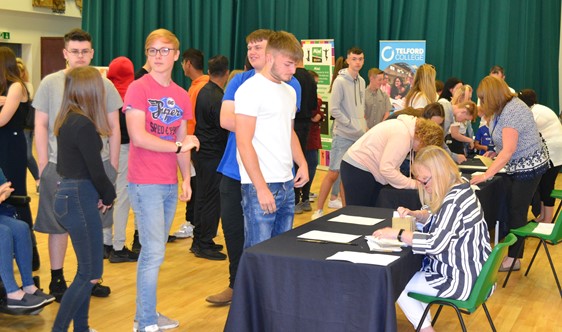 GCSE Results 2020
Following the cancelation of GCSE exams this summer, we have put together some FAQs to help you understand what this means and what to expect. We're on hand throughout the summer to answer any questions you might have about your progression within education.
When will I get my results?

GCSE results will be published on Thursday 20th August, as originally planned. This will enable progression to you chosen education as smoothly as possible. Staff are on hand throughout the summer to help.

How will my grade be calculated?

Ofqual, the examination regulator, have developed and set out a process that will provide a calculated grade to each student which reflects their performance as a fairly as possible, and will work with the awarding bodies and examination boards to ensure this is consistently applied for all students. The awarding bodies and examination boards will be asking teachers, who know their students well, to submit their judgment about the grade that they believe the student would have received if assessments and examinations had gone ahead.

How will I receive my predicted grade as my final GCSE grade?
Ofqual have set out a process that will provide a formal grade to each student which reflects their performance. This is based on predicted grades and their teacher's assessment. For this reason, student's final calculated grades will not necessarily reflect their predicted grades.
What if I am unhappy with my calculated grade?
If you believe the correct process has not been followed in your case, you will be able to appeal on that basis. Ofqual is consulting on the arrangements for these appeals.
In addition, the government have announced that they will also be the opportunity for you to sit your exams, during the next academic year.
Will the college accept these grades?

Yes, the calculated grades awarded this summer will be formal GCSE grades, with the same status as grades awarded in any other year and will therefore be accepted by all educational providers and workplace.

What now, what next?

It's time to apply for college and get a step ahead for September. Once you have applied to the college or education provider, they will be in contact with you about these next steps.

How will exam cancellations affect my progression to college?
Following Government guidance around college/school closures and exam cancellations, it is understandable for you to have questions about your next academic steps. We remain committed in supporting you to progress to college and please be assured that the latest updates regarding Coronavirus will not affect your application or offer of a place at college.
Here are our five steps to success in your future education:
1. Keep in touch
Get in contact discuss your career options, select the course you are interested in taking.
2. Course introduction
Once you have applied for the next step in your future education, is to find out your course tutors and find out more about your chosen course. This is a great opportunity to meet your tutor(s) even if this may only be virtual. Remember each education provider will have different systems and guidelines to follow.
3. Get your place

Once you have completed you should receive an offer of a place.

4. Get your joining pack

Get your joining details in readiness for September, so you are ready and know where to go and what to do.
5. GCSE results
Once you have your results, we will be on hand to ensure, you have a smooth transition to the next stage in your education. Please make sure you check your student emails for those important results on Thursday 20th August.
All Staff at Ercall Wood, wish you every success with results and your future aspirations
Results FAQs
We wish you the best of luck with your exam results. Below you will find a list of frequently asked questions related to exam results.